Helping our students find their potential
Scafell Class
If you have been in a Pillar Class for Key Stage 4 we would expect that you will move into Scafell Class for your three years in the Sandgate 6th form. Sometimes students that stay a mainstream school for Key Stage 4 come to the Sandgate 6th Form.
You will get the chance to do many different things in Scafell Class, we run a Cafe in town two days a week called the Sandgate Foyer. This is a great opportunity for you to use all your Maths, English, Communication skills in action with 'Real' members of the public. Of course the most important thing is the use of those 'food tech' skills that you have been practicing all your school life!
You will work at Scope in town as a member of staff supported by Sandgate, making displays, washing, ironing and displaying the clothes as they come in. We think that it's really important that you get a flavour of what it is like to work as an extended work experience over three years.
To prepare you for leaving school you will go to Kendal College with our staff for one day a week, you will get the opportunity to participate in a range of Kendal College Courses including; catering, hair and beauty, brick laying and construction and many more. Although not all of them will be your 'cup of tea', it will give you a chance to decide what you really do like. This will help you make a choice in the future.
You will also get the chance to take your maths and English to the next level. Some people take a few more years to get to where they want to with their qualifications. This maybe your chance to do a Level 1, 2 or GCSE over 3 years.
In the last three years most students leaving Scafell Class have gone to Kendal College,  one student got a job straight away and another went to work with the 'Rite to work' team at the Oakleigh Trust.
Bowfell Class
If you were in Helvellyn Class at Sandgate School it is likely that you will move into Bowfell Class. This will be your chance to spread your wings and become as independent as possible. Just like when you were in Helvellyn Class, we will focus on your personal progression pathway, but the difference will be you will move further from your class base. Much of the learning will take place in the community around Sandgate School, we will build in changes to help you to accept these more easily at home and once you've left us.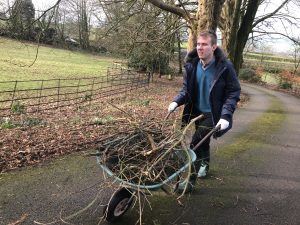 It's really important that you have skills that you have learnt in school to begin with, but in Bowfell class you will be encouraged to use them in other places. You will use your skills accessing the local leisure facilities, volunteering with local charities and day services, you will learn to access your health services with school so its easier for you when you grow up to use the service when at home. You will plan your days out, knowing what you need to be as independent as you can, you will work in the Bowfell Bistro and the Sandgate Foyer.
To show you and your family the progress you have made you work through ASDAN preparation for adulthood, this clear shows the progress you have made with level of independence growing as you move through our sixth form.
We have members of staff that will help you with all of the things that you need; learning, eating, changing and personal care. Always friendly with a smile.
Most students leave Sandgate school to go onto further education at  a place like Beaumont day services, or enter day services or Oakleigh trust services in Kendal.