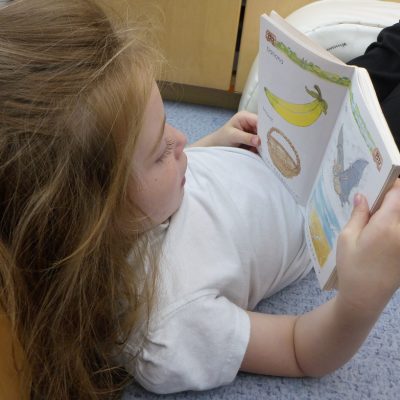 At Sandgate School we strive to develop a lifelong love of reading, stories and storytelling, no matter what their age or ability.  
Each young person will access a wide range of texts, sensory stories and storytelling experiences both within the formal parameters of the curriculum and within the simple act of sharing / reading a book for pleasure.  
Recently we have started to gather together links and resources which guide staff, parents and pupils towards books in which the characters are representative of our school community. Characters who have specific skills, diagnosis and bags of personality.  
Therefore, below you will find a list of links and resources linked to specific areas and diagnoses. Some of these books will help and support individuals and family members, but many are well crafted stories that include neuro-diverse characters- all living their best life! Inspirational characters that young people can identify with and aspire to be.  
This resource is designed to be added too. We are keen to find out about books and other links that we might have missed, so feel free to contact us.   
Suggested Sandgate Reading Blog Post Page – CLICK HERE
ADHD
https://www.anewchapterbooks.com/shop?Neurodiversity=+ADHD
Disabilities
https://www.anewchapterbooks.com/shop?Books+By+Category=Disabilities
Cerebral Palsy
https://www.anewchapterbooks.com/shop?Neurodiversity=Cerebral+Palsy
Behaviour, Social and Emotional
https://www.booktrust.org.uk/book/s/swan-song/
OCD
https://www.anewchapterbooks.com/shop?Neurodiversity=+OCD
Selective Mutism
https://www.anewchapterbooks.com/shop?Neurodiversity=Selective+Mutism
Inclusive Books
https://www.booktrust.org.uk/booklists/bookstart/finding-inclusive-books/
Blog posts relating to reading and diversity
Accessibility of Print
https://www.booktrust.org.uk/news-and-features/features/2019/january/why-you-should-try-non-fiction-audiobooks/
Specialist Bookshops
https://www.anewchapterbooks.com/shop